HURRY! 75% OFF won't last long!
Save up to 90% for a limited time - Don't miss out!

This Incredible Device Will Solve Your Pest Problems!
Here's even a lab test to prove it!
🏆Over 10,000 Devices Sold Every Month!
Due to overwhelming demand, inventory has been difficult to maintain.
👍 It Works On Rats, Roaches, Mice, Mosquitoes, Spiders, Ants, Fleas, Bed Bugs, & More.
👍 Non-Toxic & Eco-Friendly
👍 Safe For The Whole Family, Including Pets!
👍 No Clunky Traps, No Dangerous Poisons
👍 No Expensive Exterminators.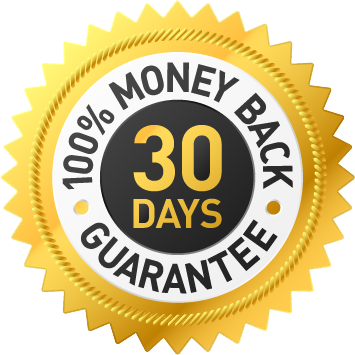 30 Day Money-Back Guarantee
If you are not 100% satisfied with your purchase then return it within 30 days of purchase for a full and prompt refund. No questions asked.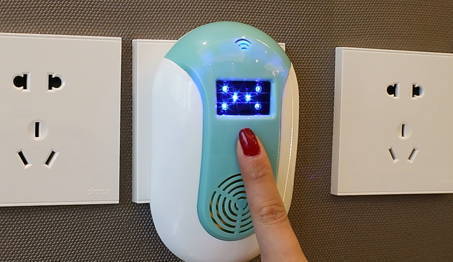 Usable in electrical outlet
Energy-safe mode for 7/24 use
Against the nervous systems of pests.
1,000-Sqft Ultrasonic Coverage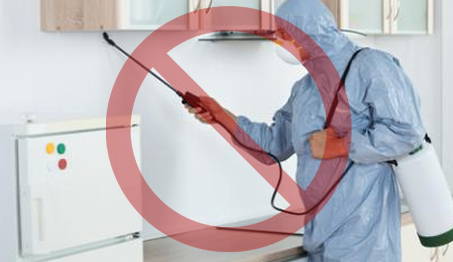 No need Expensive Exterminators
No Chemicals . No Nasty fumes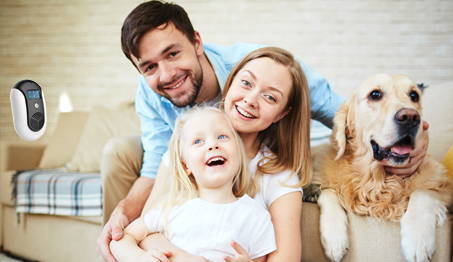 No Chemicals . No Noises
100% Safe for Family and Pets
📢Beware Of Cheap Knockoffs! Only The Original Ultrasonic Pest Blocker Can Make You A

100% Satisfaction Guarantee
American Love Pest Blocker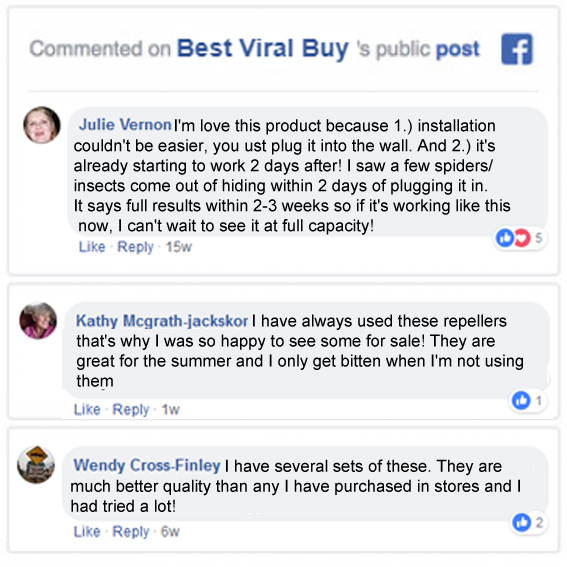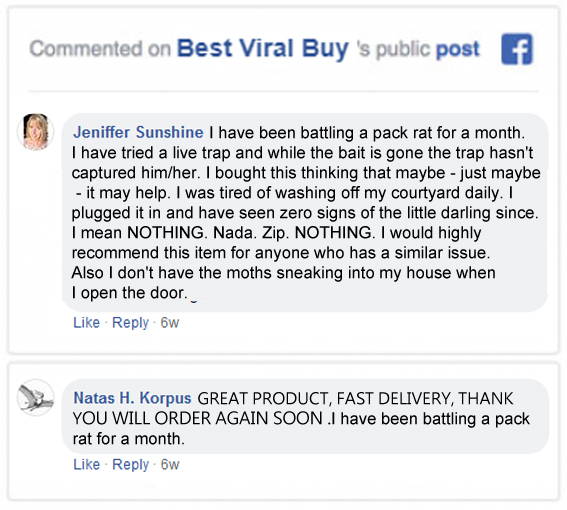 100% Satisfaction GUARANTEE!
Save Up To 75% Instantly TODAY
We have reserved your stock
We have reserved your stock
Frequently Asked Questions
How does Pest Blocker work?
The Pest Blocker emits an ultra-high frequency sound that is overwhelming to the nervous systems of vermin & pests. The pain is so unbearable, they clear the area.
What Pests Does Ultrasonic Pest Blocker Work On?
Pest Blocker works on Mice, Rats, Cockroaches, Spiders, Ants, Moths, Beetles, Flies, Mosquitoes & More!
How long does it take for this product to work?
The manufacturer states that the product can take up to 2 to 3 weeks to fully eradicate your pest problem. Usually, we are experiencing that customers are getting faster results. We recommend that you keep them plugged in 24 hours a day for at least 3 weeks for optimal results.
Does Pest Blocker Need Batteries to Operate?
No, Pest Blocker uses a standard 120V wall outlet to operate. No batteries or wiring required.
What is the coverage area of the product?
Each Pest Blocker unit has a coverage area of 300 sq ft. The average home will typically need to order at least 3 in order to get maximum coverage. If you have a garage, basement or large attic you will want to consider ordering more to achieve the best results.
Ultrasonic Pest Repellent is Pet Safe and the Ultrasonic sound waves only affect Mice and other rodents.
What is your return policy?
We offer a no-questions asked 30 day money-back guarantee. We want our customers happy! If you are unsatisfied for any reason within 30 days, simple contact our customer care center for a full refund of your initial order. Happy shopping!
We are located right here in Los Angeles, California! Our team is dedicated to finding and offering the highest quality products and the best prices directly to consumers. Our products are shipped from our locations in Los Angeles or our Warehouse in Hong Kong, China.
How Long Will it Take for my Order to Arrive?
Your Pest Blocker will arrive at your front door in 10–15 days.
About Us

PestsBlocker.com is an e-commerce website owned by BVB Group, Inc. We provides consumer buying guides that make finding and purchasing the most effective products that concerned families can use to stay safe.
Send us an email support@PestsBlocker.com and a customer service representative in the United States that will be able to quickly answer your questions and get you the information you need to buy with confidence.
The PestsBlocker.com testing lab is in Los Angeles, Ca
Need Help?
Call Us : 909-757-5095

(mon- Fri 8am-5pm pst)